Home
>>
Entertainment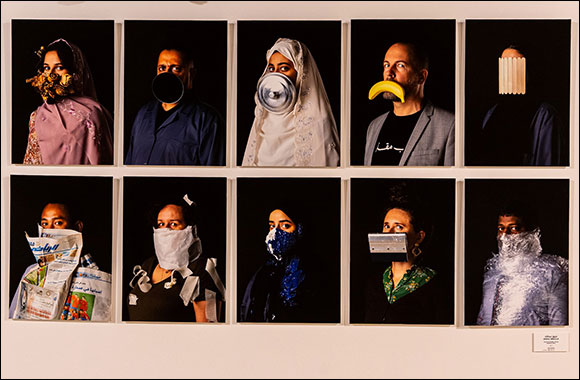 Sikka Art & Design Festival Presents Stunning Photography and Digital Art
• Noora AlNeyadi explores Guelta d'Archei lake and Al Mazmi travels the Andromeda Galaxy.
• Rashed Almazrouei uses showcases AI-generated Images and Ace Almansoori presents Golden Moments.
Dubai, UAE, 3 March 2023: The 11th Sikka Art and Design Festival showcases stunning photographs and digital art, expressing the creativity of multiple creatives, and invites visitors to the festival to explore the nature of their ideas. Within the festival, which is running at Al Fahidi Historical Neighbourhood until 5 March, the Photography House has turned into a destination for visitors, decorated decorated with images taken by five photographers from the UAE and Syria. Guelta d'Archei lake, which Noora AlNeyadi calls the 'Camel Sea,' is depicted from photos taken during an exploratory trip she made to the Aouzou region between Chad & Libya, highlighting the water's natural value.
Shoug Abdulla's archival pigment print collection 'Domestic PPE II', was created on commission from UAE's Ministry of Culture & Youth, to be the cover of the research study 'Ministry of Culture & Youth Resilience & Recovery during the pandemic.' As for photographer Zayed Ebrahim Alhaddar, he presents his series 'Flames,' in which he expresses the strength of the spirit of women, in addition to the series 'Girl with Tasa,' stressing the stability of traditions despite cultural changes.
Mohamed Almaazmi, supported by the Mohammed Bin Rashid Space Centre, takes visitors to the festival on a long journey through the world of celestial bodies, to the Andromeda Galaxy, which he took pictures of using a telescope and astronomical camera. Syrian Waleed Al Madani sheds light through his series 'Living in the afterlife' on life in the industrial areas within the country to reflect the state of vibrant balance enjoyed there.
Digital art appears in all its elegance in House 28, the Digital Arts House, to reveal a group of innovative artistic ideas and visions that bear the imprints of 14 artists from the UAE and the world in a fusion of art and robotics. Through their work 'Undulation,' Emirati duo Saeed Almadani and Ahmad Alattar explore the notions of identity in the age of technological and mechanical abundance, creating a kinetic, auditory installation that merge art and robotics to activate a space through sound, movement and visual elements using a system comprising of an array of electromagnetic solenoids. Emirati artist Mohamed Al Mansoori, who exhibits his work 'Wandering,' Ace Almansoori sheds light on moments that get captured with his 'Golden Moments,' and Fawaghi Alzaabi's presents her work 'Untitled.'
'An Artist's Battle Field' by Emirati Ahmed Al Ali is a depiction of the psychological and mental state that the artist experiences whenever he creates a new work, which forces him to fully exploit his capabilities, while artist Reem Al Mazrouei participates via her 'Our Own Light,' which appears as an invitation to search for the force that dwells within.
Rashed Al Mazrouei presents an image produced by artificial intelligence and titled 'Eid Morning,' which is a series of verbally transmitted descriptions that constitute the Emirati identity inherited through generations. House 28 also hosts the online exhibition Bazaart, which is the result of a joint collaboration between a UAE group of artists, after realising the need to connect digital community creators.
Azerbaijani practitioner Orkhan Mammadov presents his digital icon 'RELIC,' in which he reinvents the designs of traditional carpets in the region using artificial intelligence amidst societal changes, while Indian Vedika Kushalappa, through her work 'Flux' seeks to explore the material importance of digital technology as a tool for creativity, and the American artiest Patrick Lichty, through 'Techspressionist Still Life: Computers Dreaming of Computers' raises a question about the extent of the possibilities for cooperation between humans and artificial artists.
The Egyptian Dalia Omran's 'ID, EGO, SUPER-EGO' is based on her understanding of surrealism and Sigmund Freud's theory of psychoanalysis. The Iranian artist Soheil Hossein expresses in his work his passion for everything that is unreal, relying on a series of bird-like creatures. From South Korea, the Momenti platform enables visitors to interact with and touch its content.
Home
>>
Entertainment Section