Home
>>
Entertainment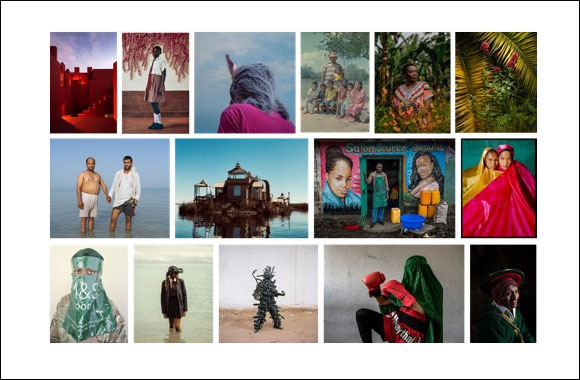 Sony World Photography Awards 2023 Finalists
PROFESSIONAL COMPETITION 2023
FINALISTS & SHORTLIST ANNOUNCED
EXHIBITION: 14 APRIL - 1 MAY 2023 | SOMERSET HOUSE, LONDON
The World Photography Organisation is delighted to reveal the finalists and shortlisted photographers in the Professional competition for the Sony World Photography Awards 2023. Now in its 16th year, the Awards' Professional competition rewards exceptional series of work both for technical skill and an original approach to storytelling.
The winner of Photographer of the Year 2023 is chosen from the Professional finalists and announced on 13 April. A selection of images by finalists and shortlisted photographers will be exhibited as part of the Sony World Photography Awards at Somerset House from 14 April-1 May 2023.
Over 415,000 images from over 200 countries and territories were submitted to the Sony World Photography Awards 2023 and over 180,000 were entered into the Professional competition - the highest number of entries on record.
The three finalists and projects per category of the Sony World Photography Awards 2023 are:
ARCHITECTURE & DESIGN
In In Memoriam: Muralla Roja by Ricardo Bofill, Andres Gallardo Albajar (Spain) pays tribute to the celebrated Spanish architect Ricardo Bofill (d. 2022), through a series of images of the maze-like interiors and exteriors of one of his most iconic buildings. In Stal-Vernacular Animal Sheds, Servaas Van Belle (Belgium) chronicles the architecture of animal shelters. Shot centre-frame in dense fog, the photographer considers the humility and humanity of these scarred and weather-beaten structures. Meanwhile in Cement Factory, Fan Li (China Mainland) captures the imposing remains of an abandoned cement factory in Southern China, shot in stark black and white.
CREATIVE
In The Right to Play, Lee-Ann Olwage (South Africa) explores female empowerment through education, using flower collage techniques to add a sense of joy, playfulness and hope to her portraits. In Africa Blues, Edoardo Delille and Giulia Piermartiri (Italy), use a projector to overlay images of environmental devastation onto scenes of everyday life as a way of highlighting the impact of climate change in Mozambique. Meanwhile, in Noemi Comi's (Italy) Lupus Hominarius archive imagery is juxtaposed with bright tones to explore historic folk tales of Werewolves in Calabria, Italy, where the legend was sometimes used to keep women close to home.
DOCUMENTARY PROJECTS
In Gaza struggles to accommodate the living and the dead as population grows, Mohammed Salem (Palestinian Territory) follows a family compelled by overcrowding in the Gaza area to set up shelter and live in a cemetery. In The Women's Peace Movement in Congo Hugh Kinsella Cunningham (United Kingdom) seeks to shed light on the frequently overlooked contributions of local women to the ongoing peace efforts in the Democratic Republic of Congo. Tariq Zaidi's (United Kingdom) Inside the Hamar Weyne Fish Market: the Heart of Mogadishu, Somalia, vividly captures the energy and atmosphere of the city's busiest fish market, where it remains a key source of economic activity despite the ongoing civil war.
ENVIRONMENT
Charting the gradual demise of the Colorado River, Jonas Kakó's (Germany) The Dying River explores the ways in which extensive human interference has impacted surrounding communities and their way of life. Miruku by Marisol Mendez (Bolivia) and Federico Kaplan (Argentina), focuses on the intersection of climate vulnerability and gender inequality through a series of images of an indigenous community from La Guajira in Colombia, experiencing a devastating water shortage. Elsewhere, in Green Dystopia Axel Javier Sulzbacher (Germany) investigates the burden and violent toll of the rising demand for avocadoes in Michoacan, Mexico.
LANDSCAPE
Taken over a course of 76 solo flights and 200 hours in the air, Event Horizon by Kacper Kowalski (Poland) is a series of strikingly abstract ice patterns over bodies of water in Poland in winter. In Postcards from Afghanistan after forty years of war Bruno Zanzottera (Italy) captures the scars borne by the landscape of Afghanistan. Fabio Bucciarelli's (Italy) Loss and Damage is a study of the destruction caused by four years of consecutive flooding in South Sudan, depicted in images of buildings and vehicles half-submerged by the floodwaters.

PORTFOLIO
Riverland and other projects by Marjolein Martinot (Netherlands) captures the feeling of a long and languid summer in photographs of bathers in Southern France. In Marylise Vigneau's (France) Portfolio, the photographer presents a collection of contrasting moments: from an old veteran recovering from Covid, to a portrait of a little girl in Lahore. Meanwhile James Deavin's (United Kingdom) Portfolio was taken while the photographer was living in Saudi Arabia, and juxtaposes images of migrant workers with images of leisure.
PORTRAITURE
Afghanistan's Girls Athletes by Ebrahim Noroozi (Iran) portrays women with the equipment of the sports they are now forbidden from playing by the Taliban, their identities concealed by burqas. Our War by Edgar Martins (Portugal) is a homage to Martins' friend, photojournalist Anton Hammerl who was killed during the Libyan civil war in 2011 and whose remains have not yet been found. The series is structured as a self-portrait of Hammerl through posed images of the people he had photographed and met. Jean-Claude Moschetti's (France) Egungun looks at traditional costumes worn in Benin as part of voodoo rituals which honour spirits of the ancestors and perpetuate their memories.
SPORT
In Female Pro Baseball Player Succeeds in All Male Pro League, Al Bello (United States) documents the achievements of Kelsie Whitmore, the first female professional baseball player to play in an all-male professional league. In Mundialito, Andrea Fantini (Italy) captures the drama and excitement of one of the most important Indigenous Football Cups in South America. Meanwhile in Fallou Diop, the Unpredicted Hope of the Racetrack, Thomas Morel-Fort (France) follows a young jockey making a name for himself on the track in Senegal.
STILL LIFE
Cryogenia by Jagoda Malanin (Poland) considers the geological period of Cryogenian through photographs of small treasures chosen by her daughter and frozen into ice shapes, posing the question of what we will leave behind us. Inspired by the comings and goings of a nearby garden shop, Kechun Zhang (China Mainland) created The Sky Garden, a series of surreal images depicting plants and rocks hoisted through the air by cranes. In La Visita, Carloman Macidiano Céspedes Riojas (Argentina) documents the different meals requested by inmates in a prison in northern Peru, the images representing the tenderness, and affection of visiting families.
WILDLIFE & NATURE
Following a journey deep into the forest, Sriram Murali (India)'s series Billions of Synchronous Fireflies Light up a Tiger Reserve captures the dazzling sight of thousands of fireflies synchronising their flashes. Meanwhile, Adalbert Mojrzisch (Germany) reveals the unexpected vibrant colours and patterns of insects under the microscope in Small Backlit Animals. In Cities Gone Wild, Corey Arnold (United States) tracks black bears, coyotes and raccoons across the United States, exploring how these animals are uniquely equipped to co-exist with humans in urban environments.
The work of finalist and shortlisted photographers in the Professional competition was judged by: Mariama Attah, Head of Exhibitions at Open Eye Gallery, Liverpool, UK; Tandazani Dhlakama, Assistant Curator at Zeitz MOCAA, Cape Town, South Africa; Elisa Medde, Editor in Chief, FOAM Magazine, Netherlands; Ioana Mello, Independent Curator and Photo Editor; Directing Member, FotoRio, Brazil; Sujong Song, Senior Curator, National Museum of Modern and Contemporary Art (MMCA), Republic of Korea; and Mike Trow, Independent Curator and Photo Editor and Chair of the Jury.
Commenting on behalf of the jury, Chair of the Jury, Mike Trow says: 'Finding original and different viewpoints photographically is challenging - but ever more rewarding as photographers embrace global visual trends and at the same time explore their own culture and history. In 2023 we have come up with another exciting and challenging set of competition winners from across the globe and covering such a range of narratives...from bold takes on architecture to empowering documentary work, daring portraiture and beautiful and heartfelt creative work. All categories brought up a wide range of opinions from the experienced and respected jury members. They covered the profound and ongoing discussions around narrative truth and agency in art, as well as wider environmental, political and societal viewpoints. I hope those who get to see the work can get a sense of why we chose what we chose and can see how photography talks to all of our own personal experiences of life.'
The overall winners in the Student, Youth, Open and Professional competition of the Sony World Photography Awards 2023 will be announced on the 13 April 2023 and will go on display as part of the exhibition at Somerset House, London from 14 April-1 May 2023.
Home
>>
Entertainment Section