Home
>>
Entertainment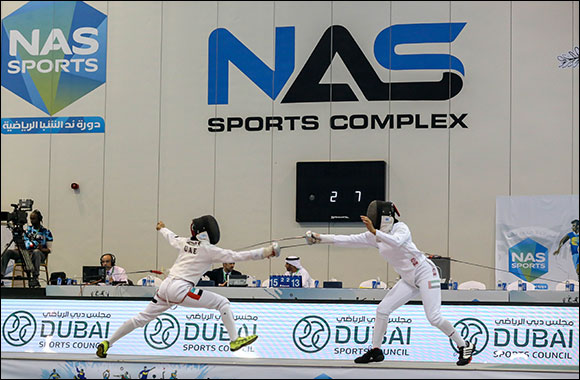 Sheikh Saeed and Moradi Reach Quarter-Finals of Padel Competition at NAS Sports Tournament
Dubai - United Arab Emirates: Sheikh Saeed Bin Maktoum Bin Juma Al Maktoum, President of the UAE Padel Association, and Arsham Moradi reached the quarter-finals of the padel competition at the 10 NAS Sports Tournament on Sunday.

Held under the theme 'Limitless Abilities' and organized by the Dubai Sports Council (DSC), the NAS Sports Tournament is the biggest event of its kind in terms of participation and prize money, and has been held every year in the Holy Month of Ramadan since 2013 at the iconic Nad Al Sheba Sports Complex.
Competing in the UAEPA 10 category, Sheikh Saeed and Moradi defeated Rashid Al Rais and Omar Issa 7-5, 6-1.
Jonathan Green and Colin Marshall moved ahead with a 6-2, 6-2 victory over Nasr Al Ketbi and Mubarak Al Ketbi.
Nicola Sciascia and Biel Ballester reached the quarters after beating Muhammad Ahly and Bilal Guerni 6-0, 7-5.
Marwan Khoury and Ali Mohammed staged a brilliant rally to beat Hamad Al Mazmi and Muhammad Al Qassem by scores of 6-4, 5-7, and 10-6.
In other round of 16 matches, Anshul Choubal and Ishaan Choubal defeated Omar Al-Arif and Ahmed Al-Awadi 6-1, 6-1; Hussameldin Amer and Ranjan Pradeep beat Jassim Al Nuaimi and Omar Muhammad 6-2, 6-0; and Omar Al-Bastaki and Moritz Eckert advanced following the withdrawal of Omair Al-Zarrouni and Hamid Bin Lahej.
In the Emirati and Expatriate Open category, Javier Lopez and Abdullah Abdulaziz stormed into the final after brushing aside Roberto Rodríguez and Fares Aljanahi 6-4, 6-1.

Sergio Alcorisa and Abdulla Ahli also reached the final after battling past Mohammed Al Shamsi and Daniel Blanco 6-2, 7-5, in the thrilling semi-final.
Earlier in the quarter-finals, Lopez and Abdullaziz delivered a super performance as they defeated Mayed Alawadi Taher and Gabriel Lima 6-1, 6-0.
Alcorisa and Ahli beat Majed Al Janahi and Sebastiao Maria 6-1, 6-0.

The inaugural NAS International Padel Championship will begin on Tuesday.
Professional players registered with the International Padel Federation (FIP) will compete in the championship.
The hosts, UAE, who claimed the inaugural Gulf Padel Cup last year, are among the strong contenders for the NAS International Padel Competition.
Besides the UAE, Egypt, Qatar, Iran, Japan, Kuwait, Bahrain, and Saudi Arabia are other teams taking part in the championship.
Meanwhile, the fencing competitions in three categories, including foil, epee, and sabre began on Sunday night at the Nad Al Sheba Sports Complex.
Participants are taking part in the local and international categories of the competition.

Musa Al Balushi, Secretary General of the UAE Fencing Federation, expressed the federation's pride in taking part in the Nad Al Sheba Sports Tournament, noting that it is one of the most significant competitions that contributes to improving the sport and preparing players for international and local competitions.
'The intense competition and participation of players from other countries give our players a chance to sharpen their skills.
The UAE, Egypt, Saudi Arabia, Estonia, Bahrain, Kuwait, Qatar, Italy, France, Iran, Iraq, Tunisia, Bulgaria, and Tajikistan are among the 14 countries taking part in the 10th edition of the NAS Sports Tournament.

'Around 120 male and female participants are in action. This is the fencing federation's fourth consecutive participation at the Nad Al Sheba Sports Tournament, and with each edition, we see more growth and progress,' he added.
Balushi emphasized that there is a sizable contingent of competitors with a world ranking and a track record of victories and accomplishments, which positively affects the level of competition, particularly given that the competition is the best training ground for UAE national team players in preparation for upcoming international competitions.

The volleyball competition will begin on April 1. A wheelchair basketball competition will take place from April 1 to April 9 at the Dubai Club for People of Determination.

The NAS Sports Tournament reflects the priority Dubai places on promoting community engagement and building strong social bonds through sports.
The multi-discipline tournament has seen more than 39,000 male and female athletes, representing different countries, take part over the past nine editions, which featured amateurs and international legends including Zinedine Zidane and Falcao.
Home
>>
Entertainment Section