Home
>>
Technology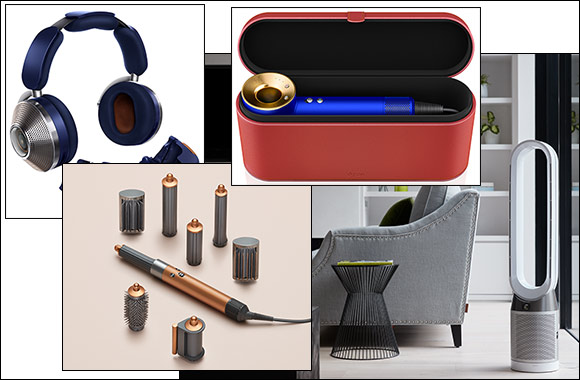 Dysons Share Gift Guide for Luxury Lovers this Eid Al Adha
Give the gift of unparalleled technology and sleek design

UAE, 8th June 2023 – The Middle East is known for its fascination with luxury products. This Eid Al Adha, Dyson is sharing a gift guide of the most magnificent tools out of its pioneering innovations. With gifts for the music lover, beauty enthusiast or the houseproud, Dyson is offering the luxury of unparalleled technology and sleek design, promising to address life's pressing concerns.

Dyson's exclusive Eid Al Adha gift guide has been curated to elevate the festive spirit and provide exceptional gifting choices for a lavish loved one. With options such as the Dyson Supersonic™ 23.75-karat-gold hair dryer, the Dyson Zone™ air-purifying headphones, and Dyson Air Purifier, everyone is sure to find the perfect gift.

Limited-edition 23.75-karat-gold Dyson Supersonic™ hair dryer
Nothing says opulence quite like a 23.75-karat-gold hairdryer. Combining luxury and functionality, the Dyson Supersonic™ hair dryer measures air temperature over 40 times a second, preventing heat damage to help protect hair's shine. Designed by James Dyson with gold-leafed detail using a traditional hand-gilding method to add a touch of elegance, the 23.75-karat-gold Dyson Supersonic™ hair dryer is an exceptional gift for those who appreciate the finer things in life, beauty, and hair care.
A total of only 350 pieces are for sale in the UAE, meaning this truly will be a one-of-a-kind gift. Priced at AED 1,999, the 23.75-karat-gold Dyson Supersonic™ hair dryer is available exclusively at the Mall of Emirates Dyson Demo Store, or online via www.dyson.ae, until stocks last.

The Dyson Zone™ air-purifying headphones
Having recently arrived in the UAE, and set to redefine listening comfort through cutting-edge technology, the groundbreaking Dyson Zone™ air-purifying headphones provide a pure, immersive listening experience and on-the-go air purification every single day. Designed for those with a passion for music, the Dyson Zone™ air-purifying headphones are engineered to tackle the dual challenges of city noise and air pollution whilst delivering an exceptional audio performance. Elevate a loved one's listening experience to unparalleled levels of comfort and air purity.
With a choice of two colours and prices starting at AED 3,699, the Dyson Zone™ air-purifying headphones are available exclusively and by appointment only at the Mall of the Emirates and Dubai Mall Dyson Demo Stores from 1st June 2023.

Dyson Purifier Cool Formaldehyde purifying fan
With the warm summer months come the northwesterly Shamal winds, bringing in the dusty sandstorm season. Dyson's recent global dust study has revealed that 55% of households globally have someone who is impacted by allergies, but very few are aware of the presence of common allergy inducers in dust. Just 33% of the surveyed realized that pollen can reside in dust, and 32% knew about the potential presence of dust mite faeces.
The houseproud will appreciate the Dyson Purifier Fomaldehyde's ability to capture ultrafine dust and allergens, even destroying potentially dangerous volatile organic compounds (VOCs), including formaldehyde. The purified air can be projected to every corner of the room whilst maintaining a preferred room temperature and air quality levels. Available in store and online, priced at AED 3,399.

Dyson Airwrap™ multi-styler
One of the most sought-after beauty gifts, the legendary Airwarp™ multi-styler, with new and improved attachments and an enhanced design, makes it even easier to use– all with no heat damage. Offering different ways to dry, curl, smooth, and straighten hair using the Coanda effect to attract and wrap hair around the attachments, the Dyson Airwrap™ muli-styler is all a loved one needs to create salon-worthy hairstyling at home.
With a choice of three colours and prices starting at AED 2,499, the Dyson Airwrap™ muli-styler are available at Dyson Demo Stores and online at dyson.ae

Don't miss the opportunity to surprise your loved ones with the perfect gift, this Eid Al Adha. All of Dyson's products are available for purchase in the UAE at www.dyson.ae and at local Dyson Demo Stores. Buy directly from the people who made it for exclusive colorways, free next-day delivery, and auto-warranty registration.
Home
>>
Technology Section