Home
>>
Lifestyle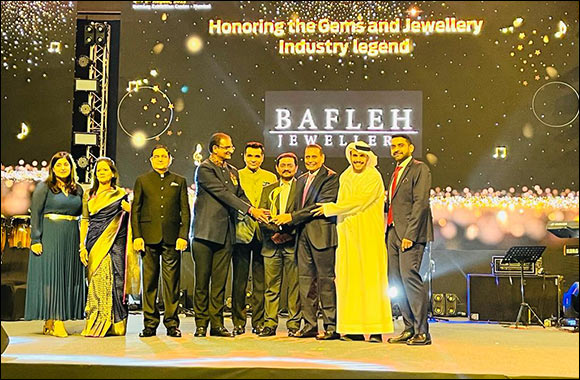 Bafleh Jewellers Crowned Industry's Legend Award at IIJS Premiere Celebration Night
– Bafleh Jewellers, a luminary in the realm of fine jewellery, has been honored with the esteemed Industry's Legend Award at the prestigious IIJS Premiere Celebration Night. The Gem & Jewellery Export Promotion Council (GJEPC) bestowed this accolade upon Bafleh Jewellery in recognition of its exceptional and transformative contributions to the Indian Gem & Jewellery Industry.

The glittering IIJS Premiere Celebration Night unfolded at the grandeur of the Jio World Convention Centre (JWCC) in Mumbai. The event, held from August 4th to August 8th, 2023, adorned two prominent venues - the JWCC, BKC, Bandra, and the Bombay Exhibition Centre (BEC), Goregaon, Mumbai. It stood as a hallmark of innovation, craftsmanship, and industry camaraderie, bringing together pioneers and aficionados to celebrate the thriving gem and jewellery sector.
The night was further illuminated by a mesmerizing performance from the renowned Bollywood music director, Pritam, adding an extra layer of charm and glamour to the occasion.

Mr. Ramesh Vora, the Managing Director of Bafleh Jewellers, expressed his heartfelt gratitude to the esteemed jury, IIJS, and GJEPC for bestowing this remarkable recognition upon him and his organization. He remarked, 'This award is a testament to our unceasing commitment to pushing the boundaries of creativity and excellence in the industry.'

Bafleh Jewellers' attainment of the Industry's Legend Award reinforces its stature as a transformative force within the jewellery landscape. The award not only celebrates its past achievements but also foreshadows a future marked by innovation and brilliance.
Home
>>
Lifestyle Section