Home
>>
Automobile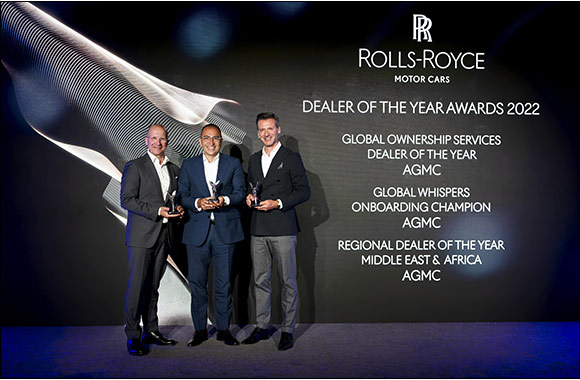 Rolls-Royce Motor Cars Dubai, AGMC Wins Three Accolades at the Global Dealer Conference
18 September 2023, Dubai, UAE: "As a true House of Luxury, excellence sits at the core of Rolls-Royce Motor Cars and I am incredibly proud of the entire team at Rolls-Royce Motor Cars Dubai, AGMC, for being awarded these phenomenal accolades. Their passion, enthusiasm and remarkable commitment to providing our clients with a truly unique experience is inspiring and I extend my warmest congratulations." César Habib, Regional Director for Rolls-Royce Motor Cars, Middle East & Africa
"2022 has been an outstanding year for the marque and Rolls-Royce Motor Cars Dubai, AGMC, and being awarded these prestigious awards is a true honour, and a reflection of my team's hard work, dedication and passion for immersing our clients in the magical world of Rolls-Royce Motor Cars.
The client sits at the heart of everything that we do, and I am incredibly proud of the knowledge, professional expertise, and personalised client engagement provided by each and every member of our AGMC family and look forward to the successes that are yet to come as we continue on in our mission to inspire greatness, every day." Mamdouh Khairallah, General Manager of Rolls-Royce Motor Cars Dubai, AGMC
Rolls-Royce Motor Cars Dubai, AGMC has been presented with three accolades at the marque's annual World Dealer Conference highlighting the dealership's profound customer-centric approach.
Taking place every year, the awards recognise and celebrate individual dealer partners' outstanding contribution to Rolls-Royce's worldwide success. Global awards were presented in categories based on a range of business objectives and achievements, together with a number of regional awards.
Presented by Henrik Wilhelmsmeyer, Director of Sales and Brand, Rolls-Royce Motor Cars, and César Habib, Regional Director Rolls-Royce Motor Cars Middle East and Africa, recognising the dealership's unwavering pursuit of excellence, a hallmark of the Rolls-Royce marque, Rolls-Royce Motor Cars Dubai, AGMC was presented with:
• 2022 Regional Dealer of the Year, Middle East & Africa
• 2022 Global Ownership Services Dealer of the Year
• 2022 Global Whispers Engagement Champion
Home
>>
Automobile Section