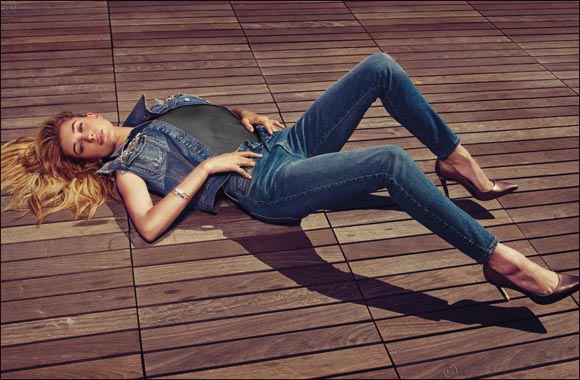 Introducing the GUESS Jeans Spring 2017 Advertising Campaign
This spring 2017 season, GUESS launches an advertising campaign featuring our latest GUESS Girl, Hailey Baldwin, alongside models Stefano Sala and Emma Stern. The campaign features spectacular sun-filled images shot in beautiful Palm Springs with the models wearing our vibrant new GUESS Jeans collection.
The advertising campaign, art directed by Paul Marciano, Chief Creative Officer for GUESS?, Inc., and shot by international fashion photographer Rayan Ayash, captures GUESS Girls Hailey Baldwin's and Emma Stern's effortless glow in soft silhouettes, while male model Stefano Sala appears relaxed in our new men's wear collection. The images clearly depict this spring's trend for carefree feminine wear and tropical men's wear details.
The women's wear assortment features silhouettes including silky floor length maxi dresses, romantic floor-length cut-out maxi dresses and off-the-shoulder boho flirty tops. Embodying the true essence of GUESS, a variety of styles are offered in fluid, indigo tencel fashion pieces with peep-skin cuts, deep slits and light-as-a-feather feminine ruffles to go with denim washes as bright as the summer sky. The women's collection includes olive and military tones, as well as pastel reds, white and deep royal blues, and summer mints with blooming, rose-colored flower printed pieces.
The collection for men includes faded out long-sleeve denim shirts, short-sleeve striped crew-neck t-shirts, a light layering piece with military patchwork, linen shorts, distressed light wash denim with patchwork detailing, and more polos and shirts that provide any GUESS guy with an assortment of options and colors this spring. The men's color palette includes pastel shades, military green, with a mixture of bleached out sorbetto hues, tropical prints, and Caribbean paintworks.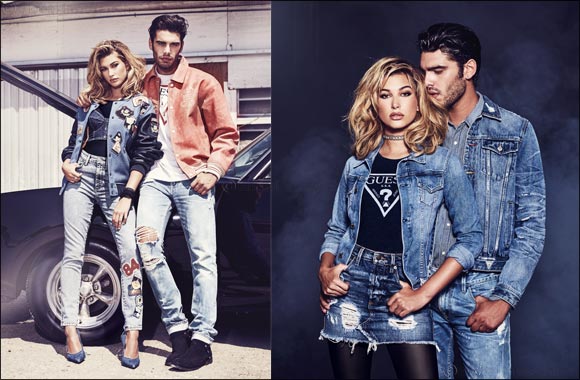 Introducing the "GUESS Originals - 1981 Anniversary Capsule" Collection Advertising Campaign
This spring 2017 season, GUESS celebrates its 35th Anniversary with a GUESS Originals capsule collection and iconic advertising campaign, featuring our latest GUESS Girl, Hailey Baldwin, alongside heart-throb Stefano Sala. These classic black and white photographs showcase the limited edition pieces in the GUESS Originals 1981 Anniversary Capsule, which celebrate our 35 years of innovative designs, pride, and success.
The advertising campaign, art directed by Paul Marciano, Chief Creative Officer for GUESS?, Inc., and shot by renowned fashion photographer Tatiana Gerusova, perfectly reflects GUESS' all American style and rich denim heritage that has characterized the brand for the past several decades. Gerusova's lens transports the viewer back to an era when the Marciano brothers transformed denim workwear jeans into must-have fashion pieces. Photographed inside an actual California denim washing facility, the campaign follows Hailey and Stefano as they exemplify the carefree essence of the GUESS brand. The denim creations and iconic logo tees found in the capsule demonstrate that GUESS, 35 years after creating the fashion denim culture and introducing the category to the global fashion industry, still remains a pioneer in denim.
The GUESS Originals 1981 Anniversary Capsule keeps with the unique stone-washed and hand treated denim techniques developed by the Marciano brothers back in the 80's, which have remained a key part of GUESS' roots. Woven labels, buttons and rivets embrace the same aesthetic as the original pieces, which mirror the assortment of American and Italian fabrics used in the collections from the 80's and 90's. Mixing equal parts modern and vintage, the denim heavy women's assortment delivers a range of jeans, skirts, jackets, vests and chambray shirts in a variety of both oversized and fitted designs. 90's logo-mania returns making a big statement in the stone-washed denim group, using logo letter appliqué, archival embroidery patches and laser printing to update the modern aesthetic and lend a classic nod to the 90's era varsity look. Oversized longline tees and vests are styled as dresses and worn over baggy high-waisted jeans to reflect the 35th anniversary collection's laid-back, vintage vibe. Form-fitting bodysuits as well as cropped tops, racerback tanks and sweatshirts stamped with a classic GUESS logo balance out any oversized piece in the capsule and add a touch of fun to your vintage ensemble.
The spring 2017 men's GUESS Originals 1981 Anniversary Capsule collection brings back the 90's retro brights with pop colors splashed on oversized tees and swished on old school GUESS logos. Blending GUESS' all-American heritage with collegiate-cool, a head-turning varsity vintage jacket in vibrant coral, patched with artwork from the GUESS archives, steps up your sartorial layering game and adds a punch color to your wardrobe. For denim, selvedge 1981 jeans with destroyed details in dark and light indigo shades as well as indigo denim jackets with bold authentic GUESS embroidery and patches are classic hits that pair well with sashed indigo and heather grey drop shoulder sweatshirts that can either be worn alone or layered over a semi-distressed chambray button-down shirt.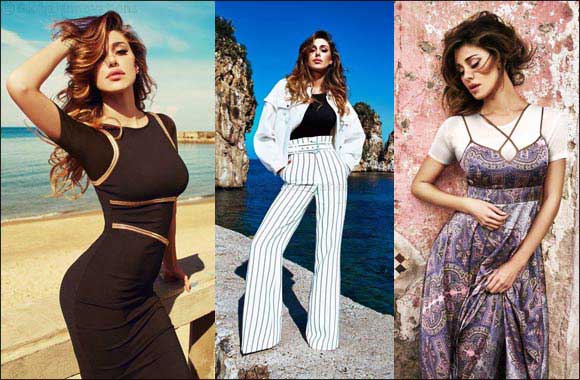 Marciano Unveils the Spring 2017 Collection and Advertising Campaign
The Spring 2017 Marciano advertising campaign features returning faces, Belén Rodriguez and Stefano Sala in a series of images that transport the viewer on a journey to a beachside in Sicily.
The campaign, art directed by Paul Marciano, Chief Creative Officer for GUESS?, Inc., photographed through the lens of Rayan Ayash and styled by fashion editor, Elisabetta Massari, displays the models evoking the strong sensuality and spirit of the collection. Set against the Mediterranean's clear blue water, Belén and Stefano wear the key silhouettes of the season, complimented by the vibrant colors of the spring line.
For women, floor-length maxis and above-the-knee bandage dresses dominate the delivery with hyper-saturated floral and paisley prints in royal blue and purple tones. Mini dresses with gold chain detailing add a luxe touch to the silhouettes; while front and side keyhole cutouts reveal just the right amount of luxury to the feminine design. Matching two-piece blazer and wide-leg pant sets in crisp white and navy blue pinstripe patterns add a dose of sophistication. For men, clean and refined blazers and dress pants are given a splash of color with blue paisley button-down shirts and golden yellow light-weight sweaters.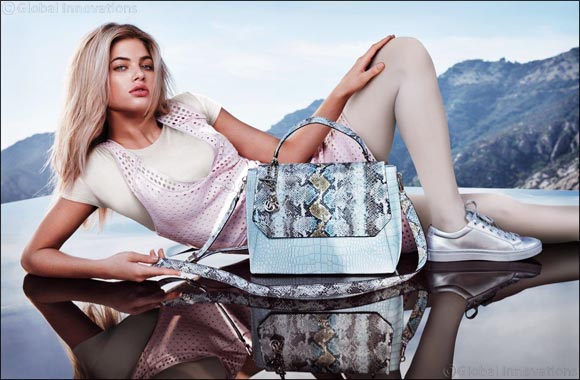 Introducing the Spring 2017 GUESS Accessories Collection Advertising Campaign
This season, GUESS introduces a fresh accessories campaign, shot in Malibu, CA, by photographer, Christian Ferretti and art directed by Paul Marciano, Chief Creative Officer for GUESS?, Inc. The images feature models Bojana Krsmanovic, Megan Irwin, Gracie Lancaster and Matt Trethe wearing the most sought-after footwear, eyewear, jewelry and handbags your spring wardrobe desires.
The campaign captures the models wearing spring's key swimwear and lightweight ready-to-wear pieces, complimented by a mixture of the season's accessories. The footwear collection offers a selection of simple yet classic it-girl-approved sneakers that update your look with model off-duty style. Spring's handbag delivery offers a selection of add-ons that transform a simple ensemble into something chic. Totes and satchels dominate the delivery in lighter shades while smaller, structured cross body bags make statements in bold hues and patterns.
Spring eyewear receives a modern update offering an array of round and square frames in sleek and feminine cat-eye shapes. Sophisticated reading glasses in oversized structures add a dose of hip to any relaxed or glam look. For men, round opticals, old-school clubmaster aviators and square tortoise sunglass styles are the must-have accessory this season. For jewelry, layered chain necklaces and bracelets with classic GUESS logo pendants and crystalized heart charms upgrade a look in just one step.
| | |
| --- | --- |
| | Previous Story : Splash runway presentation at Mall of the emirates in the pr... |
| | |
| --- | --- |
| Next Story : Roderer launches bespoke Trophy line in Dubai | |