Photo by Sebastian Pena Lambarri / The Unsplash License
For more than 7 million travelers per month, Dubai is the ultimate destination for a getaway. It has incredible nightlife, beaches, architecture, shopping, and so much more. But sometimes, you need a change of scenery. If you're in need of a vacation but not sure where you should go, here are some places you should consider for your next holiday:
Bali
An island in Indonesia, Bali is known for its beaches, coral reefs, volcanoes, temples, and lush rice paddies (a popular tourist attraction). Some other popular activities include visiting the Ubud Monkey Forest, Ubud Art Market, and Goa Gojah (a temple). Where you choose to stay all depends on what you're interested in; the island offers both relaxing resort vacations and exciting nightlife.
Sanur and Seminyak are well known for their relaxing beaches, resorts, and retreats. While Kuta also has these offerings, it's better known as a party destination. It's also known for its surfing, so you'll see plenty of surfers from all over the world here. If you want a relaxing resort vacation, don't go to Kuta — you'll be disappointed. Looking for somewhere a bit calmer where you can enjoy the views? Check out Ubud, Amhed, or Lovina. And don't forget to indulge in some great seafood!
Maldives
Located in the Indian Ocean not too far from the UAE, the Maldives is a picture-perfect tropical paradise known for its white-sand beaches, blue lagoons, coral reefs, and hut-like hotel rooms right on the water. If you want to feel like a celebrity — and maybe run into one or two — the Maldives are the place to be. While there, indulge in spa treatments and water sports like diving, snorkeling, and boating. If you can, go to the capital, Malé, to see the museums, mosques, fish market, and colorful buildings.
It's also happens to be one of the countries most threatened by sea level change. Within a few decades, many of the country's 1,200 islands are expected to be underwater. Because of this threat, many luxury resorts are doing what they can to not only provide an unforgettable vacation to travelers while they still can, but also an eco-friendly one. So it's not a vacation to miss.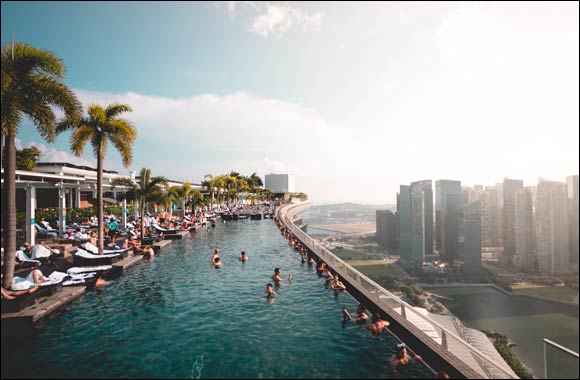 Photo by Will Truettner / The Unsplash License
Singapore
Singapore is one of the most technologically-advanced cities on the planet — but that's not the only reason you should check it out. It's also a prime destination for entertainment, gaming, time at the beach, shopping, fine dining, and so much more. In these ways, Singapore might feel a little like a home away from home — but with more greenery. Like Dubai, Singapore is also fairly expensive, so it won't be much of a change if you're looking for a cheap getaway. But it's still a great place to visit and experience.
While there, you should definitely visit the Singapore Botanic Gardens, eat plenty of the delicious street food (which will also keep your food costs low), visit the Thian Hock Keng temple, explore Chinatown and Little Italy, and check out the Singapore Symphony Orchestra to see if they have any upcoming free concerts.
Thailand
Thailand is a sought-after vacation destination for travelers from all over the world. It's known for its beautiful beaches, nature, tropical weather, and architecture, not to mention delicious food. When traveling to the country, it's important to remember that the rainy season is from July until the end of October, so the best time to visit is between December and April.
As for where to go once you're there, two of the most popular destinations include Bangkok and Phuket. Go to Bangkok if you're looking for great food, excitement, and plenty to do. Visit the Grand Palace, take a boat trip, go to the Bangkok National Museum, and be sure to eat lots of spicy street food. If you want more of a picturesque vacation with beaches that look like they belong in a movie, go to Phuket. There you'll find all-inclusive resorts, spas, diving, and lots of outdoor activities.
There's also Chiang Mai, which is a beautiful city in the mountains of northern Thailand. It's home to the Elephant Nature Park, where you can see and interact with the elephants. If you're looking for a calmer vacation full of history, interesting architecture, waterfalls, and nature, give Chiang Mai a go.
| | |
| --- | --- |
| | Previous Story : Dubai Tourism Partners With Ary to Invite Audiences to Disco... |
| | |
| --- | --- |
| Next Story : MoHAP's Health Advice and Guidance for Travelers | |