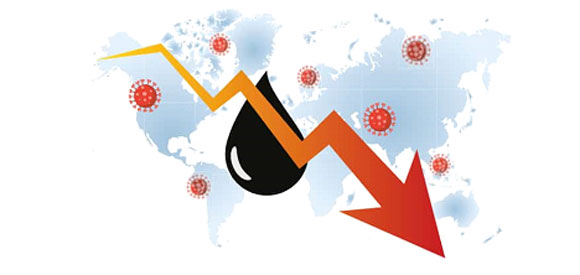 In mid-January, in the Trump administration's final days, the Center for Disease Control (CDC) announced that the vaccine could not be given to those 65 and older, down from 75 and older. The first phase of the vaccine rollout was to front line workers, including Drs and nurses. The next step was other healthcare workers and those above 75. President-elect Biden wants a faster rollout. Instead of storing vaccines for booster doses, he wants vaccine-doses initially given to individuals as the death rate rises. Oil trading has benefited from the thesis that a vaccine will allow the globe to return to a new normal where transportation will increase as travel demand regains traction.
Oil Prices Over the past Year
WTI crude oil prices have rebounded sharply after tumbling to levels that would be unfathomable in February 2020. The supply and demand balance of crude Oil was in equilibrium as prices hovered around $65 per barrel in early 2020. As the pandemic came to light and started to spread worldwide, transportation was quickly cut off. In March, the coronavirus spread across the U.S., and transportation came to a halt. Travel via aircraft as well as driving were impacted by a nationwide lockdown. By May of 2020, the volume of people passing through TSA checkpoints was 190,000, down from 2.3-million at the same point in 2019. Airline transportation volumes have increased substantially from their lows and a vaccine is likely to be the catalyst that allows travelers to feel safe on planes again. On January 3, TSA transportation number hit levels not seen since the pandemic started to spread above 1.3-million travelers. While this number is down 45% year over year, it continues to improve. This scenario comes despite a record number of deaths reported from COVID-19 in the U.S.
Oil Demand is Improving
The decline in transportation has hammered oil demand, which has rebounded since May 2020. Total product demand, which includes all of the refined products created from crude Oil, is currently at 18.7 million barrels a day in the United States, down by 9.3% from the same period last year. Over the past month, gasoline demand has averaged 7.9 million barrels a day, down by 11.8% from the same period the previous year. Distillate fuel demand includes diesel fuel, and heating oil averaged 3.7 million barrels a day over the past four weeks, down by 0.3% from the same period last year. Jet fuel demand was down 37.6% compared with the same four-week period last year.
Global jet fuel demand is down significantly, but it plays only a minor role in the total consumption of transportation fuels. Global jet fuel demand corresponds to 8% of the world's daily oil consumption. Global jet fuel demand averages around 7.5 million barrels per day. This demand compares to U.S. gasoline demand, which averages approximately 7.9 million barrels a day during the winter and will rise to more than 10-million barrels a day when gasoline demand in the U.S. fully returns.
Inventories are Stable
A combination of factors can lead to a continuation of the trend in oil prices. First, OPEC met in early January. The goal was to keep production unchanged. Saudi Arabia announced that reducing output unilaterally by 1-million barrels a day to offset Russia's production increases. The Saudi's called this a gift to the market. Inventories are still elevated but are contracting, which is helping to buoy oil prices. According to the Energy Information Administration, U.S. commercial crude oil inventories are about 9% above the five year average for this time of year. Total gasoline inventories are equal to the 5-year average range, which could continue to be a key driver of oil prices. Distillate fuel inventories are about 4% above the five year average for this time of year.
U.s. Production Remains Depressed
The lack of demand during 2020 led to a decline in U.S. domestic production. The EIA estimates that U.S. crude oil production was 11.2 million barrels a day in November, up from 10.9 million barrels a day in September, but down from the 13.2-million barrels a day last January. EIA expects that U.S. crude oil production will decline to less than 11.0 million barrels a day in March 2021 mostly because of falling output in the Lower 48 states. This increase contributes to total U.S. crude oil production reaching 11.4 million barrels a day in December 2021. On an annual average basis, EIA expects U.S. crude oil production to fall from 12.2 million barrels a day in 2019 to 11.3 million barrels a day in 2020 and 11.1 million barrels in 2021.
The Bottom Line
A vaccine could be the panacea that changes the demand dynamic around the globe. Jet fuel demand remains down 40% year over year as consumers are still concerned that traveling could be deadly. There has been a shift to travel by car, and demand seems to have increased, putting demand on par with the 5-year average for December.
Production has slowed in the U.S., and the Saudi's have helped capped overproduction by cutting output by 1-million barrels a day. This scenario has allowed inventories to decline slightly, to the point that gasoline inventories are now equal to the 5-year average range. At the same time, crude oil remains near the upper end of the average range for this time of year. Increasing demand following a vaccine should be a catalyst for rising prices. Look for crude oil to rebound back toward the low $ 60's on a WTI basis, led by gains in gasoline. The Biden administration is geared up to roll out a coronavirus vaccine, which could help oil prices continue to return to the pre-pandemic highs.
| | |
| --- | --- |
| | Previous Story : Crude oil tumbling on rising risk adversity and weaker s/t d... |
| | |
| --- | --- |
| Next Story : OPEC Deal Lifts Oil; Metals of all Colours in Demand | |