Home
>>
Entertainment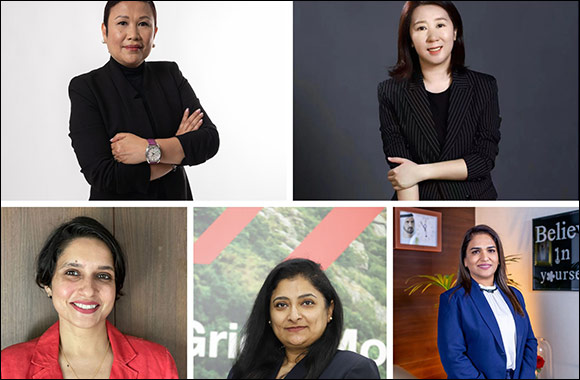 International Women's Day: Celebrating Progress and Continuing to Break Barriers
March 08, 2023: International Women's Day is an annual celebration of women's social, economic, cultural, and political achievements, as well as a reminder of the continued struggle for gender equality. While advancements have been made over the years towards closing the gender gap, there is still a long way to go in terms of empowering women to pursue their dreams and attain financial independence.
It is crucial to recognize and promote the importance of women's career development and financial autonomy, not only for the benefit of individual women but for the advancement of society as a whole. Empowering women in the workplace are essential and how we can work towards creating more opportunities for women to achieve their career aspirations.
Commenting on embracing diversity, Ms. Shubhadha Sujith, Head of Communications, Middle East and Africa, South America and South Korea at Hitachi Energy said, 'At Hitachi Energy, we recognize the vital role that women play in shaping our world. This International Women's Day, we celebrate the theme #EmbraceEquity with resilience, strength, and achievements. We believe in creating a diverse and inclusive workplace, where every individual has the opportunity to thrive and contribute their unique perspective. By embracing diversity, we can drive innovation and make a better world. We stand with remarkable women everywhere and recognize the strength and resilience they exhibit in overcoming challenges and breaking down barriers. We extend our gratitude to the strong men who support them and join hands in creating a brighter, more equitable future for all. Happy International Women's Day to all!'
Speaking on the importance of an equitable and diverse workplace environment, Dr. Shanila Laiju, CEO of Medcare Hospitals and Medical Centres, said, "As we celebrate International Women's Day, let us acknowledge the progress we have made in empowering women while also underscoring the work that still needs to be done. Today, we reiterate our commitment to creating a workplace where every employee feels valued, respected, and empowered to succeed. Together, we can drive positive change in our industry and build a better future for all."

"Being an organization led by women with predominantly female staff at 64 per cent, we cannot overstate the importance of creating an equitable workplace where women can thrive. This is essential not only for the well-being of our employees but also for the success of our organization. A diverse and inclusive workplace fosters creativity, innovation, and better decision-making. It allows us to better understand and meet the needs of the diverse patient populations we serve," she added.

She further stated, "Diversity requires ongoing commitment and action from all levels of the organization, from the boardroom to the front lines of patient care. We recognize our responsibility to ensure impartial opportunities for growth and embrace workforce diversity."
Ms. Sunny Yang, General Manager of TCL MEA, also spoke about the importance of supporting women to pursue their goals, "As women, we must have the courage and confidence to step out of our comfort zones, release our potential, and take control of our future. To do this, it's important to know ourselves, our passions, strengths, traits, and working styles. Let's inspire each other and strive for excellence, being aware of our gaps and how we can grow and improve. This International Women's Day, we can all be role models for all women and through the support that we receive from one another, we can create a harmonious and inclusive working atmosphere that promotes gender equality and empowerment."

Speaking about the challenges that working women must overcome to achieve success in their field, Aarti Ramakrishnan, COO and Co-Founder of Crayon Data, said "International Women's Day is a reminder that we need to keep pushing against ingrained biases in our society, especially when it comes to the intersection of women, work, and family. As a woman in the tech industry, I have faced my fair share of challenges, but I have also found inspiration in role models and mentors who have paved the way before me. My advice to women considering a career in any field is to be curious, stay open to learning, and develop a strong support system. And remember that it's okay for priorities to change and for your career path to take unexpected turns, just keep believing in yourself."

Ms. Malou Caluza, CEO of QNET, further spoke about the importance of women to continue working towards achieving gender equality. She said, 'International Women's Day serves as a powerful reminder that women have been breaking barriers and paving the way for future generations in the professional world. It is a day to celebrate the achievements of women who have defied the odds, shattered glass ceilings, and fought for equal opportunities. However, it also highlights the continued struggle for gender equality in the workplace. It is crucial that we continue to push for change and support women in their efforts to thrive in their professional lives. By creating inclusive environments, championing diversity and amplifying the voices of women, we can pave the way for a brighter, more equitable future for all.'
So this International Women's Day, let's continue embracing womanhood, celebrating their stories, achievements and the remarkable journeys.
Home
>>
Entertainment Section