Home
>>
Travel & Tourism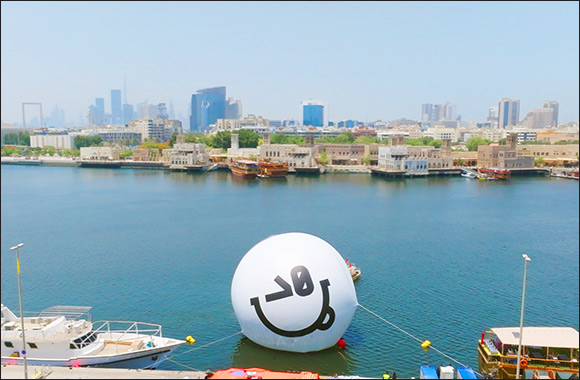 Wink, Wink! Mysterious Inflatable Emoji takes Dubai Creek by Storm – but What's the Big Secret?
A 50ft spherical smiley with bold messaging was spotted floating on Dubai Creek this morning, leaving tongues wagging and passers-by wondering what #UnleashTheExtraInYou means
The huge emoji is the logo of GLITCH, the newest family entertainment centre located at Al Ghurair Centre and featuring more than 30 high-tech attractions ranging from a Sky Surf Glider and Bowling lanes to VR sections
Dubai, UAE, June 9, 2023: Dhows were ditched and abras abandoned this morning as the Dubai Creek skyline was dominated by an enigmatic, eye-catching, emoji. Visitors to the heart of Old Dubai today found themselves gaping in curiosity as a 15-metre floating emoji with winking eye could be spotted sailing down the emirate's historic waterway, sparking mystery and leaving sightseers' tongues wagging.

Emblazoned with a bold message to #UnleashTheExtraInYou, the ball was launched from 8 June at 6am, watched on by wondering wanderers. But only now can we reveal what the supersized sphere signifies: The winking emoji with protruding tongue is the signature trademark of GLITCH, the Emirates' newest family entertainment centre.
GLITCH will open its doors on June 19, promising non-stop excitement and endless fun for the whole family. Spanning 40,000 square-metres, it is situated on Level Two of Deira's Al Ghurair Centre and features more than 30 attractions, all carefully curated to cater to ages 3 and up. From engaging in friendly competition at a state-of-the-art 10-pin bowling alley to conquering a Ninja warrior assault course, diving into a variety of mind-bending virtual reality experiences to zipping around the ceiling on an indoor roller glider, GLITCH is set to become the ultimate destination for seekers of adrenaline-fuelled fun.

GLITCH will be open Sunday to Thursday from 10am-10pm and Friday and Saturday from 10am-midnight. For ticket prices and further information, follow GLITCH on social media @glitcharabia or visit www.glitcharabia.com. Get ready to dive into the GLITCH universe at Al Ghurair Centre and #UnleashTheExtraInYou.
Home
>>
Travel & Tourism Section