Home
>>
Lifestyle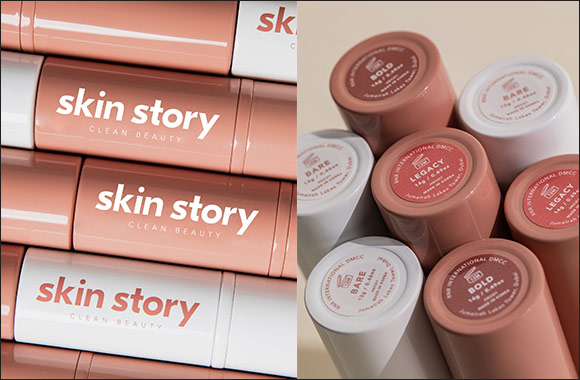 Skin Story Eid Al Adha Gift Guide
Diversity in beauty has never been more prominent
Get ready to take your skincare routine to new heights. Eid is nearly here and Skin Story has curated a special beauty Eid gift guide for your loved ones. Receiving beauty products is one of the best things in the world! Add the joyous occasion of Eid to it - and it's the best surprise one could ever get. Treat the special person in your life by showing her how much their well-being and happiness means to you. Score the perfect gift for every woman in your life this Eid with the vegan, cruelty-free, non-toxic products that can be easily applied on lips, eyes or cheeks.
DEFINE Eyeliner - AED 120
Skin Story recently launched their latest product, the DEFINE Black eyeliner. Using the brand's signature cruelty-free, ethically-derived, non-GMO and fragrance-free formulas, DEFINE is a luxe staple worthy of your makeup bag. Perfect for creating bold and dramatic looks (think graphic or winged cat-eyes), Skin Story black liquid eyeliner DEFINE in a hydrating, smudge-resistant formula gives you the most precision and helps you create well-defined thin lines. Shake to saturate the tip with ink; start with a thin line in the inner corners and gradually increase the thickness. Add a wing for a glam look this Eid.
DRAMA Mascara – AED 140
Not your typical mascara; DRAMA is made without harmful parabens or sulfates to deliver healthier and fuller-looking lashes. An instant lift and length on your natural eyelashes, the deep, jet-black hued mascara DRAMA is the perfect union of a brush and formula that provides buildable volume. Whether you are looking to create a subtle, natural look or a dramatic power statement, DRAMA Mascara formula provides buildable range to help you achieve the perfect eye look.

GROWTH Lash & Brow Serum – AED 180
GROWTH Lash and Brow Serum is a revolutionary 2-in-1 product that boosts lash and brow growth; described as "food for your lashes and brows". The vegan formula contains amino acids, hydrating conditioners, and antioxidant-packed botanicals to not only enhance follicle growth but also to protect your precious lashes and brows from dullness.
Legacy Multistick - AED 160
The Legacy Multistick is the universally-flattering makeup staple that will effortlessly suit any skin tone. With rosy-hues and a satin-like texture, this premium Multistick contains avocado oil, japonica seed oil and marula oil for a moisturizing and smooth application, leaving skin with a soft, supple glow. Skin Story products are formulated with non-toxic, cruelty-free ingredients, without synthetic silicones, sulphates and parabens?

Bold Multistick - AED 160
Embodying the new form of premium and clean beauty, the Bold Multistick is the essential makeup tool as the creamy formula allows a smooth on-the-go application on face, lips and eyes, set to a cream-to-powder finish. A perfect gift for all contour queens, this premium Multistick is also vegan, cruelty-free and comes in aesthetically-pleasing packaging that makes application even easier.

Bare Multistick - AED 160
Heading for an Eid gathering and need some moisture on the move? Bare Multistick is the perfect gift and is not only suitable for the women on your gifting list, but works wonders for men's skin too! The Bare Multistick protects your skin with SPF50, while the clean ingredients act as a moisturiser stick to keep your skin and lips hydrated. For the makeup gurus, the Bare Multistick also doubles up as a primer combining skincare-favourite ingredients and high performance make-up.
Home
>>
Lifestyle Section