Home
>>
Events & Exhibitions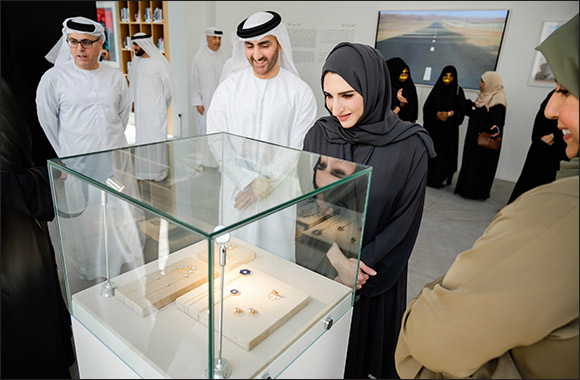 Min - Ela: 90+ Works Shedding Light on Dubai Culture Employee Talent
• Hala Badri: The art pieces are creative imprints that reflect exceptional and inspiring experiences
Dubai, UAE, 8 June 2023: Hala Badri, Director General of Dubai Culture and Arts Authority (Dubai Culture), has inaugurated the 'Min - Ela' exhibition organised by the Authority at Al Safa Art and Design Library, which will run until June 30. Through it, the Authority celebrates its employees' talents and creativity in graphic arts, photography, digital art and multimedia, jewellery design, fibre art, sculpture and handicrafts, pottery, and printmaking, among other fields. The exhibition, which includes over 90 works created by 47 staff members, is part of the Authority's keenness to uplift Dubai's creative scene and encourage established and emerging talent to showcase their skills.
During her tour, accompanied by the CEOs at Dubai Culture, Hala Badri praised the collection of artistic and creative works displayed in the exhibition, through which Dubai Culture expresses its efforts aimed at empowering the culture and arts sector in Dubai and enriching its creative scene. She affirmed that the exhibition represents a window into the unique art scene in the emirate. She noted that all the art pieces reflect the distinctive creative energies showcased by Dubai Culture personnel and represent exceptional and inspiring experiences that contribute to strengthening Dubai's position as a destination for creators.
The exhibition witnessed the presentation of a wide variety of creations inspired by heritage and the local social environment and reflect their view of Dubai as a global cultural and artistic centre, and a preferred destination for living, working and entertainment. The works presented include 'The Desert', in which Khalil Abdulwahid depicts the beauty of the desert landscape in Dubai. In addition, Ahmad Al Keswani's digital artwork 'Journeys of the Soul,' expresses life's beauty, richness and complexity, and the contradictory emotions, challenges, opportunities, and quantum leaps, calling through it to appreciate and celebrate human moments. Meanwhile, Fatima Al Budoor has a series of printed pictures titled 'Hide and Seek', symbolising the ability of humans to leave pieces of themselves wherever they are.
Mohammed Alkaabi's 'Yazra Adventure Notebook' is inspired by the history of Hatta and its natural environment. Including information and pictures of the place, the notebook was designed to meet the requirements of adventurers and travellers to Hatta. Sara Ahli has a series of black and white photos titled 'From the Heart of Al Fahidi,' highlighting the charm of the Al Fahidi Historical Neighbourhood and how it brings to light old Dubai's beauty. Kamal Al Zoubi has on display a sculpture he has named 'Letters in Pottery', examining the aesthetics of Arabic letters and their flexibility. Latifa Al Shamsi and Amal Al Abdouli contributed a variety of jewellery designs, while Basant Ali Sayed showed her artistic ability in painting shoes, especially sneakers, to make them stylish and unique.
Under the title 'Aesthetics,' Aseel Awad's photographs document the aesthetics of public places. Ahoud Alsaadi also presented a video series highlighting the natural wonders of Dubai. Mohammad Mshawrab's 'Inception' is a series of illustrated works that show the ability of the human mind to form images that express aspirations and ideas to help people determine their paths to achieving goals and dreams, while Susanne Kadoura participated in a work that reflects her passion for multimedia arts. The exhibition also included a wide variety of works inspired by traditional crafts, such as Al Talli, Burqa-making, and Al Khoos weaving, to explore the ability of these traditions to keep pace with current development, in addition to various sculptures that give a glimpse into the use of pottery and ceramics and transforming them into beautiful art.
Home
>>
Events & Exhibitions Section