Home
>>
Events & Exhibitions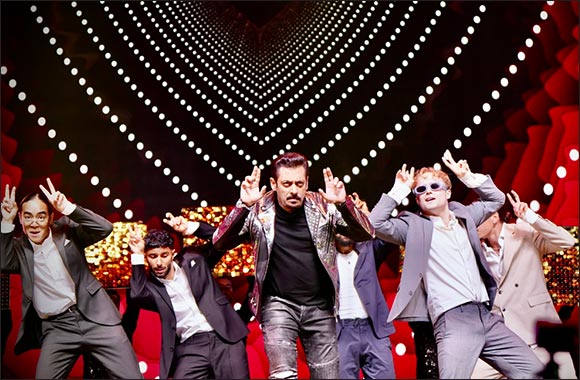 Yas Island, Abu Dhabi mesmerized by IIFA 2023!
• A Spectacular Display of Stardom & Celebration of Indian Cinema At 23rd Edition IIFA Weekend and Awards 2023
• The Dynamic duo Hosts of NEXA IIFA Awards 2023: Abhishek Bachchan | Vicky Kaushal
• The biggest performances at NEXA IIFA Awards 2023: Salman Khan | Varun Dhawan | Kriti Sanon | Jacqueline Fernandez | Nora Fatehi | Rakul Preet Singh.
• Host of Sobha Realty IIFA Rocks and Nexa IIFA Awards 2023: Farah Khan | Rajkummar Rao
• Electrifying night of music and fashion at Sobha Realty IIFA Rocks and Nexa IIFA Awards 2023: Sunidhi Chauhan | Amit Trivedi | Badshah | Nucleya | Sukhbir Singh | Palak Muchhal with an exclusive fashion show by Manish Malhotra.
• A weekend of Cinema, Music, Fashion, and Culture lighting up the golden shores of Abu Dhabi with over 25,000 people in attendance over the two days, at the largest state-of-the-art indoor entertainment venue, Etihad Arena
• NEXA IIFA Awards 2023 - Inside Images - https://we.tl/t-1frtR02Rxu
9th June, Yas Island, Abu Dhabi: Yas Island in Abu Dhabi was on fire with an extraordinary display of glitz, glamour, and pulsating energy as the 2023 Sobha IIFA Weekend got underway. There was an unprecedented turnout of celebrities ready to bring the magic of the 23rd edition of IIFA alive with performances and attendance by the biggest stars and brightest talents of Indian cinema for a breathtaking celebration that left attendees in awe.
With the esteemed partnership in the destination with Miral and the Department of Culture and Tourism - Abu Dhabi (DCT Abu Dhabi), this event was the epitome of grandeur in a destination that is a perfect host and 'home away from home' now for IIFA and the film fraternity. For the second consecutive year, the event was highly anticipated in the region and internationally as tickets to the three-day extravaganza were swiftly grabbed, for two sold-out shows bringing in over 25,000 excited and enthused attendees for an unforgettable experience. A dedicated team of over 250 passionate individuals came to Abu Dhabi as a part of the IIFA Team and were joined by over 150 people locally whom all worked tirelessly around the clock for an unprecedented 10 days, ensuring the production surpassed all expectations. Additionally, 75 local volunteers joined the 'Friends of IIFA' internship program, contributing to a legacy-driven educational initiative.
The official host hotel for IIFA 2023 was once again the iconic 'W Abu Dhabi- Yas Island,' a world-class facility located just a short 10-minute drive from Abu Dhabi International Airport and 15 minutes from the City Centre. This unique hotel perched half on land and half in water, offered a mesmerizing view of the Formula 1 racing circuit. The W Abu Dhabi Hotel and the Etihad Arena illuminated the island with their radiant presence. A dedicated team of staff at the property known as the 'W-Insiders' created customised room décor, amenities and special welcome moments for over 100 stars from the Indian film fraternity in attendance. A well-planned logistics strategy and expertise team ensured smooth transportation and security for the IIFA contingent, with a fleet of 130 cars at their disposal and over 75 close protection security for the comfort of the celebrity guests 24 hours a day. To capture the essence of Abu Dhabi, a dozen iconic places and attractions across Yas Island and greater Abu Dhabi were carefully selected as shooting locations for the television content of IIFA, reaching a massive viewership of over 800 million worldwide in more than 97 countries on Colors TV, a part of the Viacom 18 network.
The sensational Sobha Realty IIFA Rocks 2023, held on May 26th, showcased an exceptional fusion of music, fashion, and energetic entertainment on Yas Island in Abu Dhabi. The event, hosted by the charismatic duo Farah Khan and Rajkummar Rao, featured spectacular performances by renowned artists such as Amit Trivedi, Badshah, Sunidhi Chauhan, Sukhbir Singh, Palak Muchhal, and Iulia Vantur.
The musical extravaganza commenced with a captivating dance performance by Palak Muchhal, followed by Farah Khan, who graced the stage with her mesmerizing moves. Rajkummar Rao captivated the audience with his rendition of the song 'Main Hoon Na,' recreating a scene from the iconic film 'Kuch Kuch Hota Hai' and engaging in witty banter about friendship. The evening continued to enchant with enthralling performances by Sunidhi Chauhan, Badshah accompanied by Jacqueline Fernandez, Rakul Preet Singh, and Nora Fatehi. Amit Trivedi's soulful voice, joined by Arun Kamat, Devendra Palse, Meghna Mishra, and Yashita Sharma, created magical moments. The energetic beats of the dhols, courtesy of Sukhbir Singh and Iulia Vantur, set the stage ablaze. And finally, the evening reached an electrifying climax with a thrilling performance by the sensational Nucleya, leaving the audience exhilarated.
The IIFA Rocks evening not only celebrated the winners in the technical categories such as cinematography, screenplay, dialogue, editing, choreography, sound design, sound mixing, background score, and special effects but also honoured the best of Indian cinema with the prestigious IIFA statuette.
One of the biggest highlights of IIFA Rocks was a special collection showcased by the beloved iconic and world-renowned Bollywood designer Manish Malhotra. The collection, a breakthrough fusion of 'old-world charm meets the new world,' featured showstopping appearances by Salman Khan and Nora Fatehi and left the audience gasping with every outfit showcased by an array of top models.
The grand finale of the event, the Nexa IIFA Awards 2023 night, commenced with a mesmerizing monologue by global megastar Anil Kapoor, who kickstarted the magical evening alongside H.E. Saleh Mohamed Al Geziry, Director General Tourism Sector – DCT Abu Dhabi. The opening act, presented by DCT Abu Dhabi, portrayed the captivating tale of a young Emirati named Abdulla, who encounters an Indian princess named Neisha and embarks on a journey through Emirati heritage and culture with live performances and audio visuals for a spectacular start to the show. Abhishek Bachchan and Vicky Kaushal, the hosts of the Nexa IIFA Awards, kept the audience entertained throughout the night. The extravagant awards ceremony featured some of the most unique and stellar performances by Salman Khan, Jacqueline Fernandez, Varun Dhawan, Kriti Sanon, Nora Fatehi, Rakul Preet Singh, and many more.
H.E. Saleh Mohamed Al Geziry, Director General for Tourism, DCT Abu Dhabi, said, 'It has been a great honour for Abu Dhabi to host the IIFA Weekend and Awards for the second year running which is a testament to Abu Dhabi's attractiveness as a global destination. This spectacular event has become a highlight in our exciting entertainment calendar and is a reflection of the strong bond of friendship between India and Abu Dhabi. Everyone who attended the IIFA Weekend and Awards had an unforgettable time, and we were proud to see them experiencing our famed Emirati hospitality and discovering the many exciting, inspiring and restorative experiences which make Abu Dhabi so special."
Taghrid Alsaeed, Executive Director of Group Communication and Destination Marketing, Miral said, 'We are honoured to have hosted the prestigious IIFA Weekend and Awards 2023 on Yas Island once more. This extraordinary occasion, which brings together notable movie stars on the island, strengthens our vision of positioning Yas Island as a popular tourist destination worldwide. We never stop striving for excellence and are dedicated to making unforgettable memories for everyone who visits Yas Island. This is also a testament to our commitment to help promote Abu Dhabi as a top global tourism hub while contributing to the economic diversification of the Capital."
Mr Shashank Srivastava, Senior Executive Officer, Marketing and Sales, Maruti Suzuki India said, "NEXA has always been at the forefront of innovations and Curating Impeccable Experiences that not only Impress but Inspire. By foraying into the fields of Fashion, Music and Journeys, NEXA has successfully created and inspired multiple unique experiences for its customers. It is for this very reason that NEXA has collaborated with IIFA, which is a platform to recognize India's top creative talent in the world of cinema and celebrate the best in cinema arts. The association is in its 7th year and both NEXA and IIFA are challenging the status quo to create experiences that are unique and inspiring. With IIFA, we have a perfect association as we share a common vision of creating global experiences, which has established the premium imagery of both brands. We look forward to IIFA 2023 which will be held at Yas Island in Abu Dhabi to inspire our new-age consumers who seek global experiences in their everyday lives."
Commenting on the IIFA collaboration, Ravi Menon, Co-chairman of Sobha Realty, said, "We are delighted to be the title sponsors of the 23rd edition of IIFA Weekend. The event will witness the presence of the who's who of the Indian film industry with the glitz and glamour that makes Indian cinema widely popular. With a rich culture of performing arts in our nation itself, we are honoured to recognize and celebrate the long-standing allure of Indian cinema and its outstanding contributors. Indian films are watched across the world, and we are pleased to welcome the numerous actors, artists, and talents of our nation, further bringing Indian cinema to a global audience. IIFA Awards recognizes the highest quality and artistic expressions in the Indian film sector, just like we at Sobha Realty recognize the value of quality, art, and design in our work."
Vineet Mallu, Managing Director, Kuber Group said "'Celebrate the Fusion of Cultural Excellence and Authentic Flavours' is our inspiring mission, which we are promoting through cooperation between Kuber Group and IIFA. This mission emphasises the original flavours provided by the wide range of products offered by the Kuber Group while focusing on the core values of both companies. By showcasing the harmonic fusion of art, culture, and gastronomic pleasures, this cooperation hopes to inspire and engage audiences everywhere with really unique experiences. We are pleased to have worked with IIFA 2023 to align these two pillars of excellence in order to advance the mission's goals of promoting worldwide cultural awareness, gastronomic diversity, and the beauty of Indian cinema."
Joining as the official travel partner is Ease My Trip – one of India's leading online travel aggregators, Yas Island, Abu Dhabi – Country of Host, W Abu Dhabi – Official Host Hotel, LuLu – UAE Promotions Partner, Nabila – Official Hair and Makeup Partner, Izhaar – Official Invitation Partner, Broadcast partner – COLORS & COLORS CINEPLEX, Digital marketing partner – XPRESSO by Daily Hunt, Music Partner: T SERIES, Exclusive Banking Partner: UAE Emirates NBD, Associate Partner in the UAE: Floret, Official security partner – SK, Official ground transportation partner – INDUS chauffeur services, Official outdoor partner – Footprint Advertising, Official Gifting partner – Faridah Ajmal perfumes, Official dance partner – ARYA DANCE ACADEMY, Streaming partner – JIO CINEMA and High Note – Official Hospitality partner – where you can savour the best of Views and Vibes from Dubai's coolest rooftop lounge, panoramic views, infinity pool, speciality sundowners, vogue shishas, live music and more.
The event took place at the remarkable Etihad Arena, the largest state-of-the-art indoor entertainment venue in the Middle East, located in Yas Bay Waterfront on Yas Island. Yas Island itself has become one of the world's most vibrant leisure and entertainment destinations, offering thrilling adventures, renowned theme parks, exceptional motorsports, an award-winning golf venue, world-class hospitality services, and much more. Guests visiting Yas Island can also explore a wide range of experiences, from award-winning theme parks to the record-breaking CLYMB™ Abu Dhabi, the capital's largest mall, 160 dining options, scenic beaches, and mangroves, and luxurious hospitality accommodations.
The captivating IIFA awards ceremony will be exclusively broadcasted on India's No.1 premium Hindi entertainment channel, COLORS, featuring a star-studded lineup of programming that promises to captivate audiences once again.
Speaking about the partnership, Nina Elavia Jaipuria, Head – Hindi Mass Entertainment and Kids' TV Network, Viacom18 said, 'We, at COLORS, are delighted to partner with IIFA yet again to celebrate the excellence of Indian Cinema. Our long-standing partnership with this prestigious award showcases our commitment to recognising the cinematic brilliance and storytelling prowess of the Indian film industry on a global scale. We are thrilled to present to our viewers at COLORS and COLORS Cineplex an entertainment extravaganza filled with spectacular performances and glamour.'
Home
>>
Events & Exhibitions Section